Endovenous Laser Therapy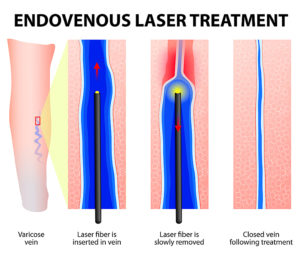 EVLT (Endovenous Laser Therapy) will correct varicose veins through a minimally invasive procedure. A doctor will make a small incision and insert a small laser fiber into the vein. The laser is used to close the vein, rerouting the blood to a healthy vein, and improving overall circulation.
WHY IT'S DONE
EVLT is used to alleviate venous reflux disease which is the cause of varicose veins. The procedure will usually give immediate visual relief along with helping chronic achy legs.
HOW TO PREPARE
Call to confirm your appointment time and place. Wear comfortable and loose-fitting bottoms because you will likely leave with an ace bandage or compression stocking. Most physicians will allow you to drive the day after the procedure and recommend that you return to daily activity.
*Stock photographs and artwork are for illustrative purposes only. This article contains general information about medical conditions and treatments. The information is not advice, and should not be treated as such. You must not rely on this article as an alternative to medical advice from your doctor or other healthcare providers.