Congestive Heart Failure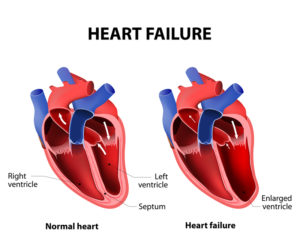 Congestive heart failure occurs when the heart stops pumping blood efficiently. Specific heart conditions such as narrowed arteries or high blood pressure will leave the heart too weak or ridged to pump and fill correctly.
CAUSES
Heart failure usually happens when another condition stiffens or weakens the heart. The chambers of your heart will not fill correctly between beats because the muscle is damaged or the ventricles have been stretched. This will cause your body to receive an insufficient amount of blood and therefore making it hard for your heart to keep up with the bodies' demands.
SYMPTOMS
Congestive heart failure can be chronic or acute; meaning the heart issues can be a continuous or sudden in effect.
Heart Failure warning signs and symptoms include:
Physical fatigue
Shortness of breath and coughing up pink foam like mucus
Irregular heartbeat
Swelling of feet, ankles, and legs
Decrease in exercise
Increased urination (especially at night)
Wheezing or coughing with white or red colored phlegm
Abdomen begins to swell
Nausea and decreased appetite
Rapid weight gain and retention of fluids
Chest pain (usually when a heart attack causes the heart failure)
*Stock photographs and artwork are for illustrative purposes only. This article contains general information about medical conditions and treatments. The information is not advice, and should not be treated as such. You must not rely on this article as an alternative to medical advice from your doctor or other healthcare providers.