When to See Your Doctor for Leg Pain
Many people experience leg pain and believe it is merely an uncomfortable part of life. However, leg pain is often more severe than a passing cramp. Leg pain can stop you in your tracks. Experiencing leg pain during activity that goes away during rest could be the sign of Peripheral Arterial Disease.
What is Peripheral Arterial Disease?
Peripheral arterial disease is when the blood vessels to the extremities become partially or fully blocked by calcium deposits. The hardening and narrowing of the veins (called atherosclerosis) caused by plaque and calcium deposits and can trigger leg pain. While exercising, your muscles need more blood and oxygen. Increased blood flow around the calcified blockages causes a buildup and pain. When exercise ceases, blood flow decreases and the pain fades. This pain is more than a simple muscle cramp.
Never ignore leg pain that fades after exercise. Peripheral arterial disease increases the risk of nonhealing wounds and limb loss. Obesity, smoking, diabetes, high blood pressure and high cholesterol also increases the risk of peripheral artery disease.
See a doctor
If you have any of these risk factors, ignoring leg pain is dangerous as it can be one of the first symptoms of peripheral arterial disease. Treat leg pain like you would chest pain. See the doctors at Carolina Heart and Leg Center, P.A. to accurately diagnose and treat the cause of leg pain before it turns into a serious cardiovascular event.
Carolina Heart and Leg Center, P.A. is designed to provide comprehensive diagnostics and treatments for peripheral vascular disease in the safety and convenience of a modern medical suite. 
We offer state-of-the-art treatment of peripheral artery disease using atherectomy and angioplasty. We strive to offer stent-less interventions that provide long term relief of symptoms. Contact us today at (910) 491-1760 and get the help you need to live pain-free.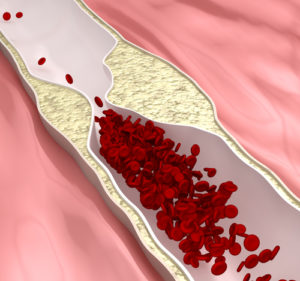 *Stock photographs and artwork are for illustrative purposes only. **This blog/post contains general information about medical conditions and treatments. The information is not advice, and should not be treated as such. You must not rely on this blog/post as an alternative to medical advice from your doctor or other healthcare provider. Please see our full disclaimer at www.CarolinaHeartAndLeg.com