Your Heart and Exercising in the Summer Heat
Summer has begun, which means exercise and swimsuit season.  However, exercising in the summer heat makes for a dangerous combination.  If you do not regularly exercise and are beginning, it is best to consult the doctors at Carolina Heart and Leg Center, P.A.  Inactivity can aggravate medical conditions and heart problems that make exercising dangerous.
Exercise
Exercising increases the muscles need for oxygen.  At the same time, heat limits the heart's ability to supply oxygen to the body.  Heat causes the body to sweat in order to cool down.  Fluid levels in the body drop while sweating, which lowers blood pressure.  The heart then must work harder to keep blood flowing.  Low blood pressure means lower oxygen levels to the body.  The combination of lower blood pressure and strain on the heart is dangerous.
Strain on the heart
The heart also strains to pump blood to the surface of the skin to aid with cooling down. When the body cannot cool down, heat stroke can damage the heart and other organs.  For someone with a heart or medical condition, further damage or stress on the heart from the heat is dangerous.
Consult a doctor
Before exercising in the summer heat, consult the doctors at Carolina Heart and Leg Center, P.A. A physical checkup will help the doctors create a safe exercise plan, which takes into consideration your physical condition, age, history and existing medical conditions.
At Carolina Heart And Leg Center, P.A., we are known for our dedication to providing the highest quality cardiovascular care. We're also committed to helping you take better care of yourself through preventive care and education about healthy lifestyle choices. Contact us today at (910) 491-1760 to schedule a consultation with one of the most trusted healthcare teams in the area.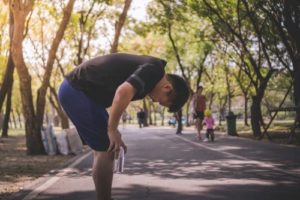 *Stock photographs and artwork are for illustrative purposes only. **This blog/post contains general information about medical conditions and treatments. The information is not advice, and should not be treated as such. You must not rely on this blog/post as an alternative to medical advice from your doctor or other healthcare provider. Please see our full disclaimer at www.CarolinaHeartAndLeg.com